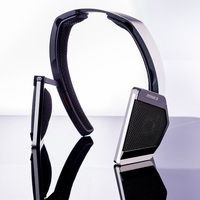 MYSPHERE 3 – the «Hover Ear» headphone
LB-acoustics, with production site in Vienna, active for 40 years in the professional acoustic extends the manufacturing capacity of the MYSPHERE 3
VIENNA, 5TH NOVEMBER 2018 – NEWS:
LB-acoustics, with production site in Vienna, active for 40 years in the professional acoustic and vibration measurement technology, extends the manufacturing capacity of the MYSPHERE 3 the completely open unconventional headphones.
HANDMADE MANUFACTURING:
By using the latest technology, the new product THE «Hover-Ear» headphone is assembled in Vienna Austria.
This completely acoustically open unconventional headphones are handcrafted there in the small but fine manufactory.
The completely open spacial listening experience can also be experienced on site in a new special designed listening room and delight enthusiasts of good music.
Numerous other uniqueness's as well as the extraordinary design will be explained to interested customers visiting there.
A novelty is the production of the split membrane of the product MYSPHERE 3 made of glass / air / resin which is produced by a local compact robot.
A PATENTED SIGLE SIDED ELECTRIC SYMMETRIC CONNECTION
is just another of the various novel features of the product.
MYSPHERE 3 uses a very different head-bow construction and deign to wear the headphone and the drivers «SOUNDFRAMES» without any pressure over or on the ear.
ALL CUSHIONS was designed by
the major target for the development was to avoid plastic foam materials. This is because of critical performance towards long lasting-ness of those materials in general.
To find the best compromise between sound permeability, durability over many years, comfort and clean-ability, a so called «3-D Mesh» known in the automotive industry is used.
It is capable not alone the pure requirements described above, it offers directive depended sound permeability as well and help to boost requested frequencies if applied correct.
A 3-D ACOUSTIC RESISTIVE PART was invented:
Each headphone or even speakers uses resistive parts in the design to dampen the sound flow pneumatically. However, most materials are either non-durable over time, or too frequency depended, or not uniform over the production.
MYSPHERE 3 is using a unique plastic part specially developed to overcome those problems with one single part surrounding the driver. It is machined by 3-D printer. A patent is applied for this invention.
www.mysphere.at
The product is being offered by LB-acoustics online from the factory worldwide at a market price of EUR 3,300 (+ customs and tax)
LB-acoustics mit Produktions-Standort in Wien, seit 40 Jahren aktiv in der professionellen akustischen Messtechnik, nun auch Hersteller von High-End Kopfhörern.
Firma
LB-acoustics Messgeräte GmbH
Rechtsform
Gesellschaft mit beschränkter Haftung
Sitz in Wien
Geschäftsanschrift
Bahnsteggasse 17-23/Stiege 1, 1210 Wien, Österreich
Geschäftsführer
Ing. Helmut Ryback
Kontakt
LB-acoustics Messgeräte GmbH
Heinz Renner
Bahnsteggasse 17-23
1210 Wien
+436641218844
heinz.renner@lb-acoustics.at
http://www.mysphere.at